Simply Jimny Roaring – #MilesToMilestones
Back To All Articles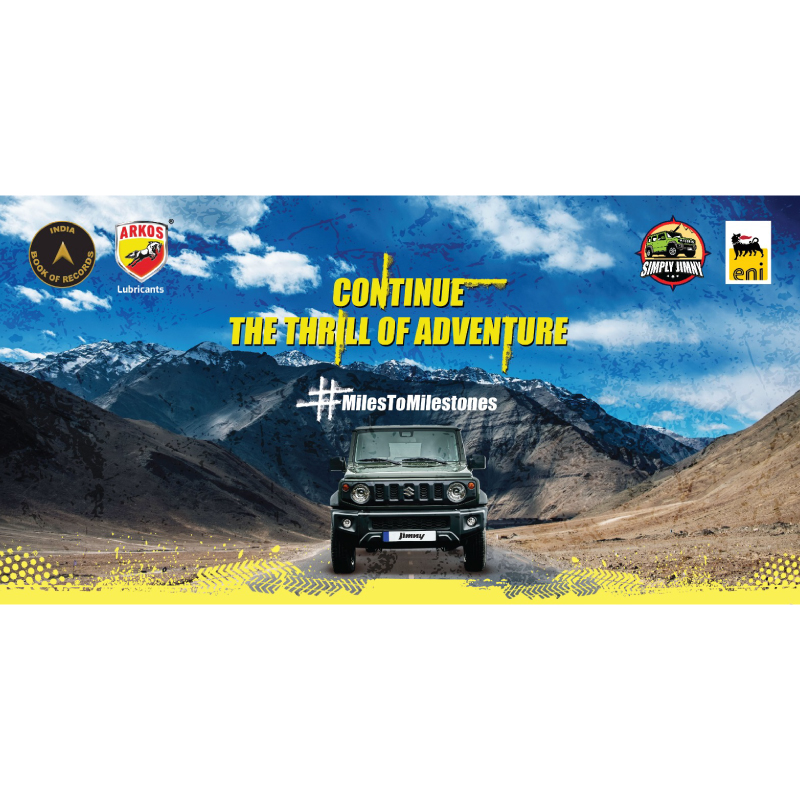 ENI Engine Oil and ARKOS Lubricants, which fall under the brand APAR Industries wanted to sponsor the Simply Jimny Umling La Expedition. The event consisted of 10 Jimny cars that were to reach a height of 19,024 ft at Umling La. 
The expedition was set to start in Panchkula on 15th September to reach Umling La on 26th September. The 10 Jimnys were going to cover the rough terrains of Ladakh including everything from high mountain passes to awe-inspiring scenery. The expedition was to be followed by felicitation of the participants to achieve this feat while making two world records.
To make this possible in an effective way, they came to us with the brief to give the expedition a powerful and inspirational vibe while highlighting the performance of their engine oils. The deliverables included a theme for the expedition, vehicle branding, promotional hoardings, and Social Media creatives. 
To match the tonality and messaging, we went on to understand the adrenaline rush and enthusiasm, a journey like this would create in the minds of the participants. 
With this understanding, we came up with the idea #MilesToMilestones to highlight how every mile is a motivation to reach the next milestone. We crafted strong communication that was infused with the positioning of both brands while incorporating the benefits of the products. 
From the design aspect, the rough finish and Himalayan visuals, along with the powerful Jimnys provided neat, fresh and strong creatives for the event. 
The client appreciated the campaign along with the creatives which we delivered for the expedition. Also, the experience of the 10 Jimny owners was enthralling and filled them with even more excitement for the expedition.
Events like these are a great way to highlight the functionality of slow-moving consumer goods (SMCG) and to increase brand presence across the market.